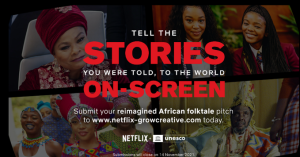 Africa has a rich heritage of storytelling and a young population that is ready to step up and tell Africa's stories, in all their multiplicity. We're excited by the fresh new voices that are ready to tell the stories they were told by prior generations, to the world. Netflix has partnered with UNESCO to launch a short film competition, "African Folktales, Reimagined," to find the bravest, wittiest, and most surprising retellings of some of Africa's most-loved folktales. We can't wait to see what you've got.
How to apply:
Applications open
Applications will open from October 14th, 2021 via this website. They will close on November 14th, 2021 at 11:59 PM (GMT).
Submit synopsis
You will need to submit a synopsis of your concept (no more than 500 words) in a Creative Statement as well as a link to a recent CV and a portfolio of any past audiovisual work you have produced.
The shortlist
We'll announce our top 20 finalists in January who will then be invited to a "How to Pitch to Netflix" workshop.
The finalists
Our final 6 winners will be selected by an independent judging panel guided by Netflix and UNESCO.
ELIGIBILITY CRITERIA
You are under 35 years old

You are a citizen and resident of a Sub-Saharan African country

You are a filmmaker with limited experience, but have developed and produced 1- to 2 theatrical feature films, television fiction, documentaries, or 2-3 short films and/or commercials seeking to venture into feature film development and production
If you're eligible for this competition then visit https://netflix-growcreative.com/unesco/ to apply.