Apply for the 2023 Tony Elumelu Foundation Entrepreneurship Programme for Young Entrepreneurs (Receive US$5,000 of Seed Capital, Mentoring and Training)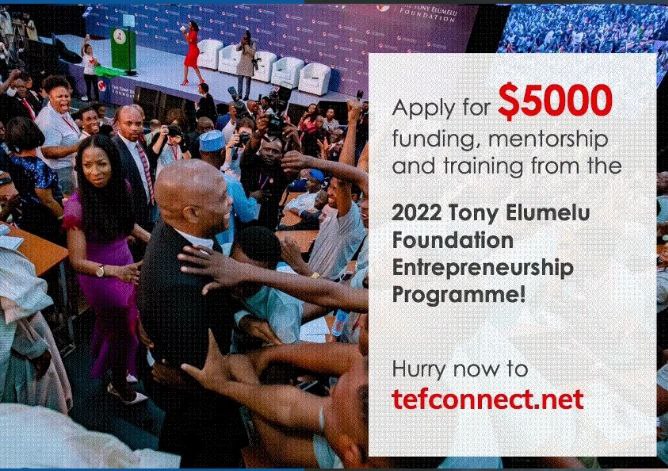 Tony Elumelu Foundation Entrepreneurship Programme is now accepting applications for its 2023 cycle. TEF is the leading champion of entrepreneurship in Africa. Its objective is to empower women and men across Africa, catalyzing economic growth, driving poverty eradication, and ensuring job creation. TEF believes the private sector's role is critical for Africa's development and that the private sector must create both social and economic wealth.
The Programme is a 10-year, $100 million commitment to identify, train, mentor, and fund 10,000 young African Entrepreneurs. The goal is to create millions of jobs and the revenue required for the sustainable development of the continent, thus, implementing the philosophy of Africapitalism. Thereby, positioning the private sector as the growth engine for Africa and emphasizing the importance of creating social and economic wealth.
You are eligible to apply if you have a business idea or a Startup under 3 years of existence in any sector and in any country in Africa.
Application Deadline: March 31, 2023
Benefits
Selected Entrepreneurs will receive:
World-class business management training
Mentorship
$5,000 non-refundable seed capital
Access to key networks and markets
Global Networking Opportunities
Eligibility
Open to all citizens and legal residents of any one of the 54 African countries. The proposed business must be registered and operate in Africa.
Applicants must be 18 years old and not be considered a minor in their country of residence. There is no upper-limit age restriction.
Applicants can be outstanding African entrepreneurs running existing start-ups with high growth potential and aspiring business owners with transformative ideas.
All businesses must be business ideas or early-stage companies, in the range of 0 to 3 years.
Your application must focus on ONE business only.
They are particularly looking to grow representation from French, Arabic, and Portuguese speakers, as well as female Entrepreneurs.
The programme is not open to research institutions, faith-based organizations, value-adding trading companies, government contractors, and businesses not located in Africa. The businesses must not adversely affect the environment, lives, and property. Business ideas must be for-profit and must be the original work of those making the submission.
Selection Criteria
Selection will be based on the considerations below:
Feasibility of the business idea.
Market Opportunity: knowledge and understanding of the market, customers, and competitors for their idea/business.
Scalability: Demonstrates potential for replication and growth of their product or service to create jobs and wealth.
Financial Understanding: understanding of the basic financial requirements of running a business, costs, and revenues.
Leadership Potential and Entrepreneurial Skills: Demonstrate leadership potential, capable of attracting people, customers, and resources.
How To Apply
Applications are made through TEFConnect, the digital networking hub for the African entrepreneurship ecosystem, created by the Foundation.