Apply for the Advance Africa Scholarship Program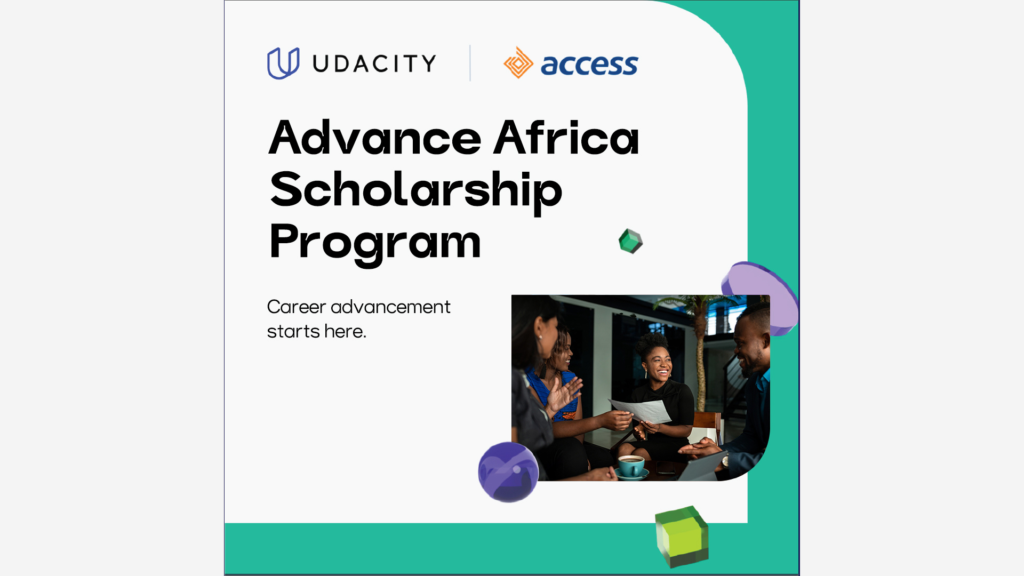 Are you looking to enhance your future career and skill set in the most in-demand tech skills? Look no further than the Advance Africa Scholarship Program, a joint effort by Access Bank and Udacity to award 1,000 Nanodegree program scholarships in 2023!
The program is aimed at empowering people in Africa with the opportunity to learn and develop their skills in areas such as Business Analytics, Intro to Programming, Programming for Data Science with Python, Product Management, and Digital Marketing. These skills are increasingly important in today's ever-evolving tech landscape and can help individuals to stay competitive in the job market.
The scholarship program is open to anyone with a passion for learning and a desire to develop their skills. Are you a recent graduate looking to kick-start your career, a mid-career professional looking to switch industries, or someone simply looking to improve your skills, this program is for you.
To apply for the scholarship program, interested individuals need to complete an online application form. The application process includes submitting a personal statement and a resume, as well as answering a few short essay questions. Once applications are received, a team of experts will review them and select the most promising candidates.
The selected candidates will receive a full scholarship to enroll in the Nanodegree program of their choice, with all course materials and support provided by Udacity. Additionally, candidates will receive career coaching and job placement assistance from Access Bank, helping to ensure that they are well-prepared to enter the workforce with their newly acquired skills.
Scholarship Timeline
May 9 – June 13, 2023 – Applications Accepted
June 19, 2023 – Challenge Winners Announced
June 22 – August 3, 2023 – Challenge Course
August 13, 2023 – Nanodegree Winners Announced
August 17, 2023 – Nanodegree Begins
The Advance Africa Scholarship Program is a fantastic opportunity for anyone looking to enhance their skills and advance their career in today's fast-paced tech landscape. This program can provide you with the tools you need to succeed whether you are a seasoned professional or just starting out. Don't miss the opportunity – apply today!