The Carrington Youth Fellowship Initiative (CYFI)  2023/2024 Application is Open!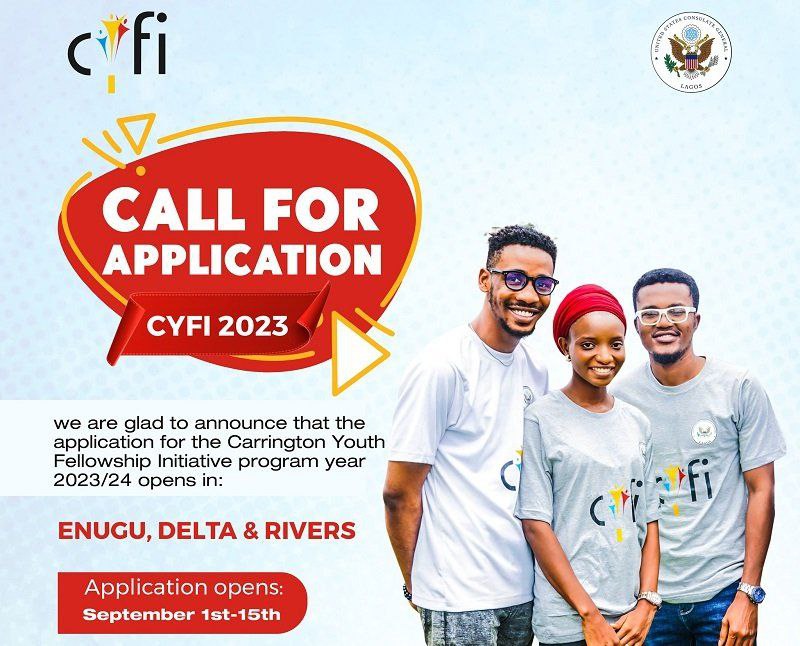 In a world brimming with potential, there is an extraordinary opportunity that stands out, ready to empower young leaders and change-makers. The Carrington Youth Fellowship Initiative (CYFI) is not just an opportunity; it is a transformative journey that will shape the future of those who dare to dream big.
CYFI: A Beacon of Opportunity
The Carrington Youth Fellowship Initiative, administered by the U.S. Consulate General in Lagos, is a dynamic program to connect young Nigerians with community development projects in Nigeria. However, it is more than just a fellowship; it is a platform that nurtures leadership, fosters innovation, and instills a sense of social responsibility.
A Transformative Experience
CYFI is not your ordinary fellowship. It is a life-altering experience that takes fellows on a journey of self-discovery, community engagement, and professional growth. You will become part of a vibrant community of change-makers committed to making a positive impact in your state of residence and beyond as a CYFI Fellow.
Key Highlights of CYFI
1. Hands-On Experience: CYFI Fellows have the unique opportunity to work directly with local NGOs and community organizations. This hands-on experience allows them to understand the real challenges communities face and actively contribute to sustainable solutions.
2. Professional Development: The fellowship offers training sessions, workshops, and mentorship programs that equip Fellows with valuable skills in project management, leadership, and communication. These skills are not just for fellowship but for life.
3. Community Engagement: CYFI Fellows become advocates for change in their communities. They identify problems, design solutions, and lead projects that address pressing issues such as education, healthcare, and environmental sustainability.
4. Networking: The CYFI network is a treasure trove of connections and opportunities. Fellows interact with like-minded individuals, experts, and mentors, creating a support system that extends beyond the fellowship.
Are you a young Nigerian between the ages of 18 and 30 with a passion for change?
Are you ready to take on the challenges of your community and make a lasting impact?
Then, the Carrington Youth Fellowship Initiative awaits you.
Visit the CYFI Application Page to start your journey towards becoming a change-maker, a leader, and an inspiration!
CYFI is not just an opportunity, but a calling and a chance to shape a brighter future for yourself and your community. Do not miss out on this incredible journey of personal and societal transformation. Apply now and become part of the CYFI legacy. Your story of impact begins here!