KIR FOUNDATION DISABILITY INCLUSIVE HOLIDAY EMPOWERMENT PROJECT TRAINING YOUTH TO LEARN AND EARN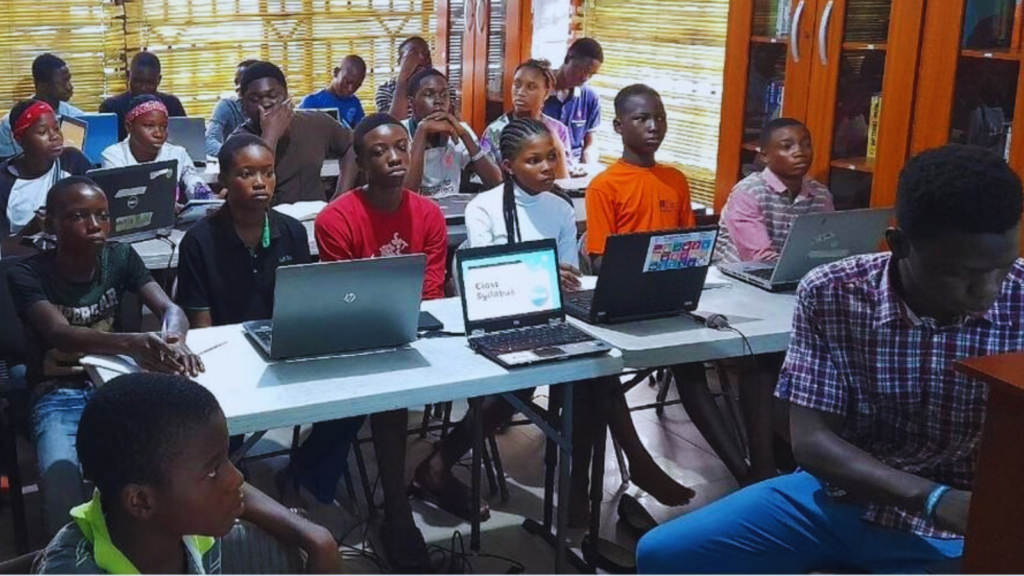 "We cannot always build a future for our youth, but we can always build our youth for the future."
Victor (Hearing impaired youth and a 100 level, Mechanical Engineering student of Imo State University)
"I have learnt so much from this project. I learnt that I can convert my fears into opportunities. I am going to use everything I have learnt to create opportunities for myself and teach other deaf youth".
KIR Foundation organizes the Holiday Empowerment Project (HEP) during the summer vacation in August with the objective to provide in and out-of-school youth with market-relevant skills. The project outcome promotes Sustainable Development Goals 4.3; we want to ensure that there is equal access for all women and men to affordable, quality technical, vocational, and tertiary education.
Young people in the 21st Century must have digital and soft skills to be workplace ready and earn in the marketplace. Most youth like Victor our hearing impaired beneficiary in our public schools as they progress through their academic journeys and into the workforce, do not have the opportunity to learn learning digital, creative, and soft skills that will enable them to become stronger visual communicators who harness the spectrum of technical mediums to influence the world around them. These skills empower them to go beyond the written word to create videos, photos, presentations, and infographics that educate, raise awareness, and create deeper connections to critical issues in our world.
Victor a hearing-impaired youth and a 100-level, Mechanical Engineering student of Imo State University, was one of the HEP beneficiaries, due to the strike by university lecturers in Nigeria, he was stuck at home. He was really keen on learning new skills, but did not have the opportunity to do so and could not afford it. Also, most training centers or training in Rivers State are not disability inclusive. So, when he heard about HEP, he was really excited and grateful to join the training.
This year we organized two Holiday empowerment projects (HEP) that took place in Port Harcourt and Katsina State. In Port Harcourt from the 17th to the 20th of August, we trained 38 youths at the KIR Foundation Inclusive Community Centre. the beneficiaries were trained in Canva Design which was facilitated by Wisdom Macdonald, Digital Marketing by Theodora Isijola, Storytelling by Deborah Ikechukwu, Resume writing by Emmanuel Macdonald, how to optimize the use of Telegram and Google by Ejike Williams Onyekwe and WhatsApp optimization by David Daniel.
While in Katsina State with sponsorship from ThatGirlChild and in partnerships with Sunny Ajine and volunteers from Rotaract Club of Katsina, 51 Youths were trained in basic ICT skills (use of Microsoft Word, Excel, and use of the internet). The training was held at Diocesan Community School, Katsina, Katsina State from the 29th of August to the 19th of September.
Some of the highlights from the projects are as follow
Our facilitator for the Canva Design session, Wisdom Emmanuel said "What makes you a Creative Designer is not the #software you use, but how creative your mind is. You can use Illustrator or Canva to make a design but what makes your work stand out, is how you use your mind to bring your ideas to life."
While Deborah Ikechukwu during the storytelling session said "How we tell a story effectively helps to market our brand and business. The ways you can do that are: Intensifying the emotions of your target audience by entering into their space (know what they value) and making them feel needed and important."
David Daniel the facilitator for WhatsApp optimization said to learn and master a skill that is in high demand. The skill you have is what generates income, WhatsApp is only the medium you use to sell your skills. Whatsapp can serve as your Money Making Machine (MMM)."
Furthermore, the facilitator for Telegram, Ejike Williams Onyekwe said; "One of the things that differentiate Telegram from other Social Media Platforms is the privacy it gives. The public can't access your personal information unless you allow it. Also, you can use Telegram to promote your business ideas.
Theodora Isijola our facilitator for Digital Market explained to the beneficiaries that; "Digital Marketing is a skill you learn and an opportunity you use to communicate, share information, build a community and grow your business use it to create the digital future that you want."
And Emmanuel who facilitated the Resume Writing session told the trainees; "Your Resume should be able to replicate who you say you are and do" – Emmanuel Macdonald who facilitated the Resume writing and WhatsApp Sticker design session. He taught the beneficiaries how to design WhatsApp stickers and write an outstanding Resume/CV".
One of the trainees; 13-year-old Kogi Ryker said the graphic design session exposed her to a lot of things she did not know prior to HEP, especially what Smart Phones can help us achieve, I plan to start creating designs and teach others the skills I have gotten from here, to make some money for myself"
Thank you donors for supporting us to equip 89 youth in digital creativity and soft skills so that they excel in school and in their future careers, as well as to promote positive change in society.