KIR Foundation celebrates children's day with reading sessions around Nigeria
World Children's Day, also known as Universal Children's Day, was first celebrated on 20th November 1954, with the goal of promoting international cooperation, raising awareness among children around the world and improving children's welfare.
The UN General Assembly approved the Declaration of the Rights of the Child on 20th November 1959, which is a significant occasion. The UN General Assembly also adopted the Convention on the Rights of the Child on the same day in 1989.
Since 1990, World Children's Day has been celebrated with different themes adopted to commemorate the event.
The theme for World Children's Day 2021 is "Investing in Our Future Means Investing in Our Children".
Over 262 million children in the world are out of school due to an increase in poverty, natural disasters etc. Children from developing countries tend to be withdrawn from education due to problems related to health and the economy.
When children are denied education, they are likely to experience life-altering challenges like violence, trafficking, forced labour and even malnutrition. An educated child will however gain self-esteem, better career prospect, and Improved mental health.
It is the duty of everyone; mothers and fathers, teachers, uncles and aunts, government leaders, religious and community elders, young people, and children themselves to help make World Children's Day relevant to their communities, societies and nations.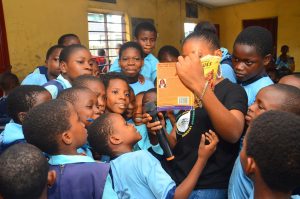 This is why, on Friday the 19
th
of November, the Keeping It Real Foundation, in collaboration with our implementing partners and volunteers, will hold a special reading session in 30 schools throughout 22 states and Abuja to commemorate World Children's Day 2021.
This is what we do to inspire change through reading.