THE TEACHERS WE NEED FOR THE EDUCATION WE WANT: A CALL TO REVERSE THE TEACHER SHORTAGE IN NIGERIA
On October 5th, every year, the world comes together to celebrate World Teachers' Day, a day dedicated to recognizing and appreciating the invaluable contributions of teachers to society. This year's theme, "The Teachers We Need for the Education We Want: The Global Imperative to Reverse the Teacher Shortage," is a stark reminder of the challenges facing the education sector in Nigeria and globally. The United Nations Educational, Scientific, and Cultural Organization (UNESCO) has rightfully placed the importance of increasing the number of qualified teachers at the top of the global agenda. This article focuses on the teacher shortage crisis in Nigeria and advocates for urgent action to address it.
Our Foundation's Commitment
In 2021, Keeping It Real (KIR) Foundation initiated the 10th Anniversary Book Drive Campaign, aiming to set up 50 Reading Corners across Nigeria to bridge the learning gap exacerbated by the COVID-19 pandemic. Since then, we have established 65 Reading Corners, donated over 14,783 books, and read to more than  32,471 children. In the spirit of World Teachers' Day, we started hosting workshops  to celebrate and support teachers in the schools where we set up Reading Corners.. This year, we are having a hybrid workshop so that we can empower the teachers outside Rivers State too.
Teachers: The Heart of Education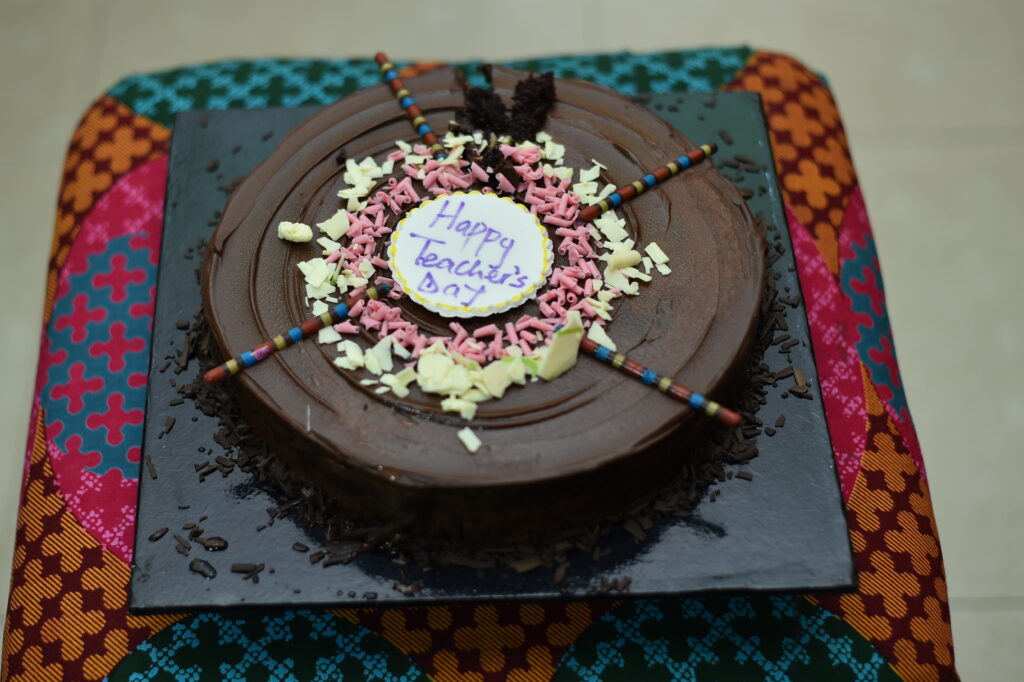 Teachers are not just educators; they are guides, mentors, and sources of inspiration. They share knowledge, boost self-esteem, and create safe learning environments. Some teachers even make history through their empowerment and wisdom. They are the heart and soul of a great education system. Their impact goes far beyond the classroom, as they are mentors, guides, and sources of inspiration for their students.
Teachers like Mr Edmund Markson, who goes above and beyond to mentor our beneficiaries not only in his class but in the school at large, exemplify the dedication and passion that many teachers in Nigeria possess. Despite facing challenges such as low pay, lack of recognition, and a shortage of resources, these educators continue to make a difference in the lives of their students.
The Teacher Shortage Crisis
However, the education system in Nigeria is facing a severe teacher shortage crisis. Recent reports from the Nigerian Union of Teachers (NUT) revealed the dire situation in our public primary and secondary schools. The NUT highlighted this issue, pointing out that teachers leaving the service in many Nigerian States have not been adequately replaced. The shortage of qualified teachers is alarming, with some States witnessing teachers leaving the service without replacement.
According to the Universal Basic Education Commission (UBEC), Nigeria has 47 million students, but there is a significant shortfall in the number of qualified teachers. In States like Ogun, Osun, Ondo, Rivers, Kwara, Gombe, and Katsina, public schools are grappling with a shortage of teachers, making it difficult to provide quality education to students.
The Role of State Governments
According to the Executive Secretary of UBEC, Hamid Bobboyi, the State governments are to be blamed because they have done little or nothing to improve the sector despite receiving N57 million to drive teacher development programmes between 2009 and 2022. Bobboyi said, "67.5 percent of teachers in public schools and 85.3 percent in private schools have not attended any in-service training between 2018 and 2022."
It is imperative that State governments take creative and urgent action to address this crisis. Education is the cornerstone of national development, and without a solid foundation in primary and secondary schooling, our future is at risk. Therefore, State governments must prioritize the recruitment, training, motivation, and incentivization of teachers to bolster the education system.
Furthermore, many States owe teachers, and low pay discourages educated Nigerians from pursuing a career in education. This shortage of educators and quality teaching in the formative years of learning negatively impacts the nation's youth.
The Impact of the Teacher Shortage
The consequences of the teacher shortage are far-reaching. It affects not only the quality of education but also the future of our nation. Nigeria has over 18 million out-of-school children, according to United Nations data and 3.3 million students dropping out before Junior Secondary School 1. According to UNICEF data in June 2022, we are facing a crisis that threatens our national development.
Studies have shown that teacher shortages are often caused by poor salaries, working conditions, and high student-teacher ratios. This puts undue pressure on educators, affecting the quality of teaching. The lack of teaching equipment and infrastructure compounds these issues. Also, mismanagement, corruption, and political recklessness also destabilize the teaching profession. The shortage,and quality of teachers in some States are a concern, because many teachers are unqualified to teach their assigned subjects, thus posing a serious challenge to the effectiveness of the education system. It's clear that urgent action is needed to address these issues.
The Way Forward
Therefor, to reverse the teacher shortage crisis in Nigeria the Federal and State governments must prioritize education and invest in the teaching profession. The following are some steps that can be taken:
1. Recruitment and Training: The government should focus on recruiting and training qualified teachers to fill the existing gaps. Also, proper training and continuous professional development are essential to ensure that teachers are equipped with the skills and knowledge they need to deliver quality education.
2. Improved Working Conditions: Teachers deserve better working conditions, including competitive salaries and benefits because adequate remuneration will attract and retain qualified educators in the profession.
3. Infrastructure and Resources: Schools should be equipped with the necessary infrastructure, teaching materials, and modern technology to support effective teaching and learning.
4. Reducing Teacher-to-Student Ratios: High student-to-teacher ratios put undue pressure on teachers and hinder the quality of education, therefore, reducing these ratios should be a priority.
5. Incentives: The government should provide incentives to motivate teachers, such as performance-based rewards and recognition for outstanding educators.
6. Teacher Accountability: Implementing rigorous teacher evaluation and accountability systems can help ensure that only qualified teachers are in the classroom.
7. Payment of Salary Arrears: State governments should clear all outstanding salary arrears owed to teachers promptly to boost their morale and commitment to the profession.
Conclusion
On World Teachers' Day, we celebrate the remarkable work of our exceptional teachers and acknowledge their vital role in our society. However, it is also a day to reflect on the challenges they face, particularly the severe teacher shortage in Nigeria. It is imperative that the government take immediate and decisive actions to reverse this crisis and prioritize education as the foundation of our community and national development.
We   beleve in KIR Foundation that Investing in our teachers and providing them with the support, resources, and recognition they deserve is not only a moral obligation, but also a strategic imperative for the future of Nigeria. Indeed!  It is  time to ensure that we have the 'Teachers we need to provide the education we want' for our children and our nation's progress!