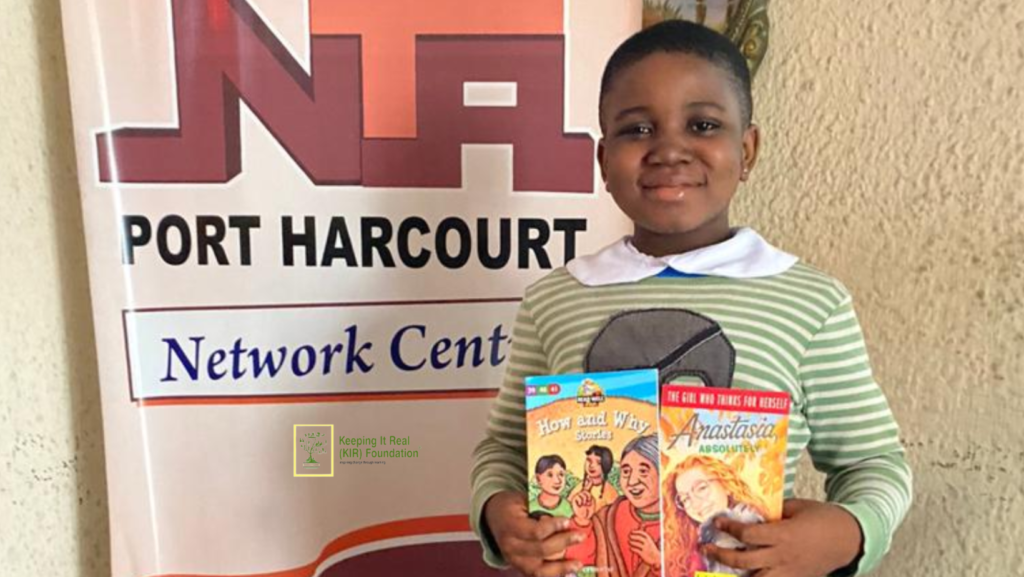 On the 21st of March, UNESCO celebrates World Poetry Day by recognizing the unique ability of poetry to capture the creative spirit of the human mind. World Poetry Day is an occasion to honour poets, revive oral traditions of poetry recitals, promote the reading, writing, and teaching of poetry, foster the convergence between poetry and other arts such as theatre, dance, music, and painting, and raise the visibility of poetry in the media.
In the past seven years, KIR Foundation has organized an inter- Poetry competition among twelve primary schools in Port Harcourt to promote an awareness and appreciation of Poetry. However, this year's World Poetry Day fell on a Sunday; so we commemorated the day by going with the winner of the Essay Competition NTA Port-Harcourt where she read her winning poem live on Television on the 19th of March 2021.
The above poem by 11-year-old Deborah Tola, the winner of the KIR Foundation World Poetry Day Competition 2021, expresses the plight of most underserved children in public/community primary schools in Nigeria who were unable to attend school remotely due to the COVID-19 Pandemic. Deborah like her peers in public/community or poorly funded primary schools in Nigeria did not attend school for close to 7 months in 2020, further worsening the quality of education.
Her poem voiced how the Covid- 19 pandemic affected her education and that of her schoolmates.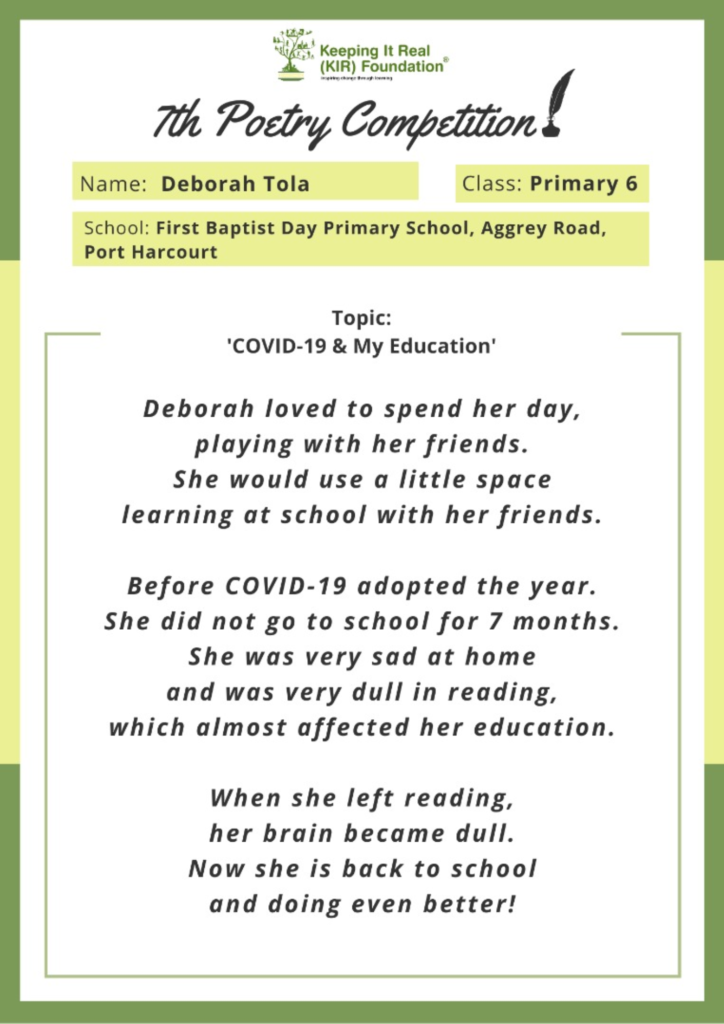 This year, we organized the 7th Edition of the KIR Foundation World Poetry Day Competition 2021 with the theme; 'COVID-19 and MY Education'. We received 36 entries from three public primary schools in Rivers State; Model Primary school 1 Azuabie, Eze Iche Akarolo Model Primary school Elekahia, and Baptist Day Primary School Aggrey.
The winner of the KIR Foundation 7th Annual Inter-Primary School World Poetry Day Competition, Deborah Tola a primary six pupil of First Baptist Day Primary School Aggrey was very excited to read her poem on live NTA Port Harcourt's Weekend Show in the company of KIR Foundation team members.
During the interview session, Deborah was asked why she wrote the poem and she said, "At first I was happy staying at home during the lockdown, but after some months, I noticed I couldn't read on my own and I had forgotten a lot of things that I had learnt in school. The poetry competition gave me the opportunity to describe my experience." The KIR Foundation team presented her with two storybooks; 'How and Why Stories' and 'Anastasia Absolutely'. She was extremely grateful because they are her first personal storybooks!
KIR Foundation has been hosting the poetry competition because, like other forms of literature, poetry allows children to see the world from new perspectives and learn more about other parts of the world.