From Slum to School: Inspiring Change Through Learning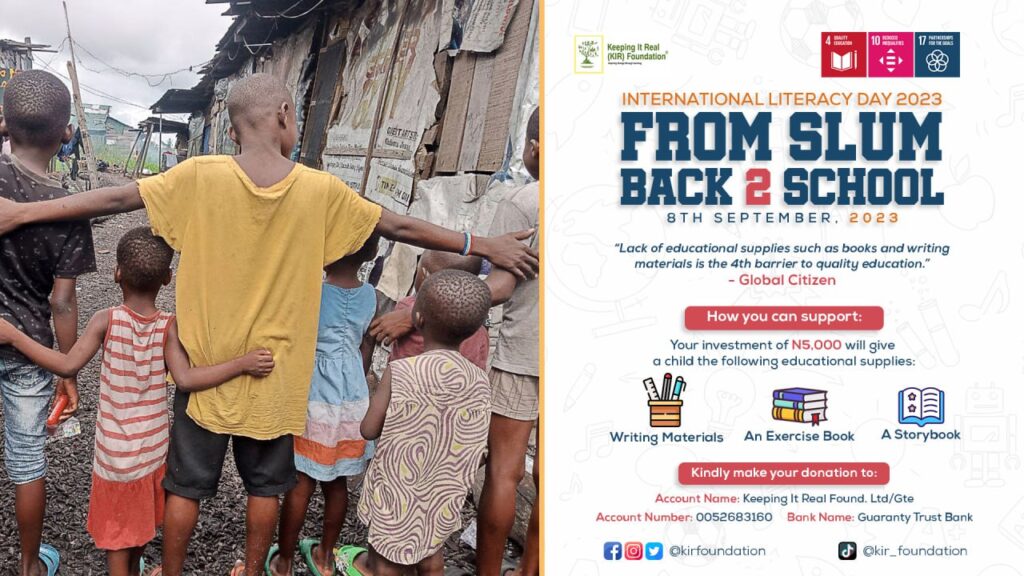 In a resounding reaffirmation of our central purpose of inspiring change through learning and our vision of creating a bright future for our beneficiaries, we are excited to announce an education partnership with the dynamic team of Port Harcourt Global Shapers Hub for our upcoming project, aptly named #FromSlumBack2School. This project embodies the spirit of progress and compassion, aligning perfectly with the global celebration of International Literacy Day.
Project Overview:
On this International Literacy Day, we are embarking on a mission to rewrite the destinies of underserved children residing in the challenging slums of Mile 2 Diobu, Port-Harcourt, Rivers State Our goal is simple but thoughtful: to send Udoh and 149 other underserved Nigerian children back to school. It is a journey that transcends mere numbers; it is about investing in the future of the most deprived in our society.
Our Partners:
We extend our heartfelt thanks to the visionary Curator of the Port Harcourt Global Shapers Hub, Tonye Briggs, the Executive team, and the entire Hub for their unwavering commitment to this cause. Indeed, together, we have formed an alliance that promises to drive change where it is needed most.
The Challenge:
In the slums of Mile 2 Diobu, education often takes a backseat due to the harsh realities of life, where survival is paramount. Education for these children has become a luxury that their indigent parents cannot afford. Therefore, going to school cannot be a distant dream but must be a passport out of poverty. Many of them, like Udoh and his young friend, face daunting obstacles, from financial barriers to the absence of proper learning resources.
Our Mission:
Our mission is clear: to break down these barriers and pave the way for these deserving children to receive an education. Education is not merely a privilege; it is a fundamental right that can transform lives and break the cycle of poverty.
What We Aim to Achieve:
1. Increase in School Enrollment: Our aim is to increase enrolment for Udoh and 149 other underserved children by relieving their parents of the attendant cost of writing materials.
2. Learning Resources: We will provide essential writing materials and storybooks.
3. Mentorship and Support: We will set up a Reading Corner in the only school in the community, and our partners, Global Shapers, through their 'Safer Schools Project' will visit the children every week to read to them and create an empowering foundation for these young learners that will nurture their growth and development.
4. Community Engagement: We believe in the power of community. We will actively engage with the parents, church, and school to build awareness and foster a culture of learning. 
How You Can Be Part of the Change
We invite you, our friends, supporters, and fellow advocates, to join us on this remarkable journey. Your support can come in various forms, from financial contributions and book donations to volunteering your time and skills. We know that together, we can make a tangible impact on the lives of Udoh and 149 other incredible children in the slums of Mile 2 Diobu.
Finally, as we celebrate International Literacy Day, let us remember that literacy is much more than reading, writing, numeracy, and computer skills; it is more about empowering individuals, communities, and nations to live sustainable lifestyles. We are not just sending these children back to school; we are leading them on a path to a brighter and more promising future!